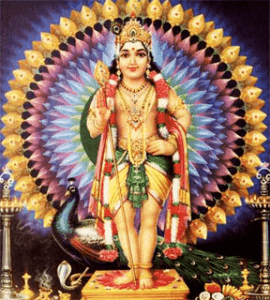 Subramanys Homa is performed by invoking Lord Subramanya in the fire and offering oblations through fire. Apart from performing the homa as a healing and energizing ritual to bestow immense benefits, Subramanya Homa can also be done for any problems related to Mars, especially Mangala dosha or Kuja dosha.
Subramanya Homa blesses with good health and prosperity. Lord Subramanya is the presiding deity of "Swadistana Chakra" which is one of the seven major energy centers in human body. He is the dispeller of all fears. Subramanya Homa can be done to overcome fears of all forms and remove negative vibrations from a space and restore it with intense positive healing vibrations.
Lord Subramanya is the son of Lord Siva and his consort Goddess Parvathi. Lord Subramanya was born out of six sparks from the third eye of Lord Shiva to destroy demon Soorapadma. Lord Subramanya has 6 faces and he rides a divine peacock. His expression is of supreme intelligence and leadership.
Traditionally he is believed to be the commander in chief of the devatas or the angels. He has "Vel" (spear) as his symbolic weapon which is the source of all knowledge dispels ignorance and bestows wisdom!
---
 Customized Homam
The Homam to be performed depends on the type of problems & the individual's Birth Chart, usually a Pundit is consulted for advice on the type of homams that are to be conducted. If you have any doubts please ask to our Pundits. A detailed analysis of your Horoscope chart, by our Pundits would suggest you the most suitable remedies or if to conduct special poojas for specific problems at specific temples, that would help you over come your problems and to obtain evident good results with the Power of Cosmic Energy.
How Can I Get This Homam Performed?
By analyzing your horoscope, our experienced Pundits can identify the reason for the problems and the ways to nullify the problems. Based on your Birth Chart and on the instructions given by our Pundit, selective Homams are performed by Our Experienced Priests. Our Priests has vast experience in the field of performing Homams & Poojas. They have sound knowledge on the various aspects of performing homams. The main aim of performing the Homams is to enrich positive energy of the ruling planets and to nullify the negative elements shown in the birth chart. It is also a form of remedial measure which has been followed from the ancient times. Homams and poojas performed for a particular deity by invoking Agni – the God of fire. It is said that when Lord Brahma (the creator among the Trinity) created man, he also created "Homam" for man's livelihood and his attainment of spiritual desires.
---
---