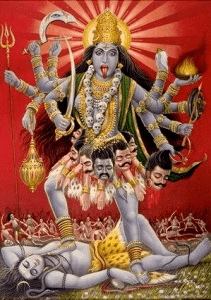 Bhadrakali Sahasranama Homam with 1135 Nama (names) of Sri Bhadrakali uses ghee, red flowers, black pepper, Sea sum, Gingili seed, cooked rice, etc. This is very powerful for eliminating an enemys evil wishes. This neutralizes and eliminates an evil wish or thought directed against us and makes an enemy think favorable or pleasing thoughts about us.
The love between the Divine Mother and her human children is a unique relationship. Kali, the Dark Mother is one such deity with whom devotees have a very loving and intimate bond, in spite of her fearful appearance. In this relationship, the worshipper becomes a child and Kali assumes the form of the ever-caring mother.
Here she is depicted as having born from the brow of Goddess Durga during one of her battles with the evil forces. As the legend goes, in the battle, Kali was so much involved in the killing spree that she got carried away and began destroying everything in sight. To stop her, Lord Shiva threw himself under her feet. Shocked at this sight, Kali stuck out her tongue in astonishment, and put an end to her homicidal rampage. Hence the common image of Kali shows her in her mle mood, standing with one foot on Shiva's chest, with her enormous tongue stuck out.
Bhadrakali is the fearful and ferocious form of the mother goddess Durga, also known as the gentle Kali, is generally an auspicious form of the goddess Kali. The legend states that she came into being by Devis wrath, when Daksha insulted Shiva. It is believed that Bhadrakali was a local deity that was assimilated into the mainstream Hinduism, particularly into Shaiva mythology. Sometimes she assumes terrible aspect, and is represented with three eyes, and four, twelve or eighteen hands. She carries a number of weapons, with flames flowing from her head, and a small tusk protruding from her mouth. She is the consort of Virabhadra.
---
Customized Homam
The Homam to be performed depends on the type of problems & the individual's Birth Chart, usually a Pundit is consulted for advice on the type of homams that are to be conducted. If you have any doubts please ask to our Pundits. A detailed analysis of your Horoscope chart, by our Pundits would suggest you the most suitable remedies or if to conduct special poojas for specific problems at specific temples, that would help you over come your problems and to obtain evident good results with the Power of Cosmic Energy.
How Can I Get This Homam Performed?
By analyzing your horoscope, our experienced Pundits can identify the reason for the problems and the ways to nullify the problems. Based on your Birth Chart and on the instructions given by our Pundit, selective Homams are performed by Our Experienced Priests. Our Priests has vast experience in the field of performing Homams & Poojas. They have sound knowledge on the various aspects of performing homams. The main aim of performing the Homams is to enrich positive energy of the ruling planets and to nullify the negative elements shown in the birth chart. It is also a form of remedial measure which has been followed from the ancient times. Homams and poojas performed for a particular deity by invoking Agni – the God of fire. It is said that when Lord Brahma (the creator among the Trinity) created man, he also created "Homam" for man's livelihood and his attainment of spiritual desires.
---
---
---