The Science of Numbers
Numerology, the science of numbers, says that we are born with a set of unique numbers that have meanings, and from those meanings we can find out our destiny, who we are compatible with,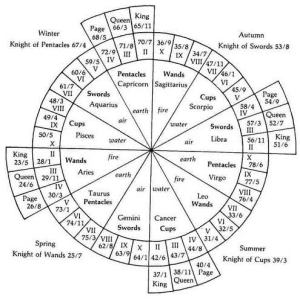 what our personality is really like, and more. Our numbers define a sequence of events for us which, when taken in combination as a whole, describe the entire nature of our life experience.
The belief in Numerology is easier to grasp when put into context with realizing how the entire world revolves around numbers and mathematical equations. Everything boils down to numbers and the importance of numbers in our lives is endless. We are issued social security cards, driver's licenses, phone numbers, bank account numbers, street addresses, etc., so it only stands to reason that the numbers we were born with play an integral role in determining our blueprint on our journey. Whether or not you believe in the science of numbers, it is always subordinate to the individual's belief system and their power to want to change their destiny since we all have free will.
What's in Your Blueprint?
In the language of numbers, there are nine basic positions that define and influence the unique blueprint each of us travels during our life. These positions can appear to be either positive or negative. Numerology identifies each position, especially the negative aspects, to explain challenges to be overcome or different path choices to be made. The purpose of examining these basic positions is to assist the individual to become more integrated and harmonious throughout their life.
Numbers are an integral part of our lives; according to the laws of karma, even our breaths are numbered. From paupers to preachers, all live by numbers. If you are feeling lucky, playing those six lucky numbers in the lottery can make you into a millionaire. If you are short on luck, however, you could lose it all gambling, in business or in stocks on Wall Street.
Numerology is the study of the hidden meanings of numbers and their influence on human life and has been used for over 10,000 years to accurately reveal the secrets of love, wealth, success and happiness that lie hidden in your inner-self. Starting from your name and birthday, as a code, numerology helps you to understand who you really are, why you are here, and lessons you can learn. By following the patterns of monthly and yearly cycles of growth, numerology helps you further to plan your future and to take more active role in your life.
All the numerologist needs from you is your full name and birth date. Number values are assigned to the letters in your name. The numerologist will then add those in a multitude of combinations with your birth date, to establish your key numbers.
These key numbers are then being interpreted, which leads to a complete description of your personal characteristics.
Finding out more about yourself will enable you to develop in ways which may have seemed impossible before. Numerology will help you make the most out of your strengths, as well as deal better with your weaknesses.
The accuracy of Numerology Science is amazing in its depth of detail and comparable to an Astrological Reading in it's overall completeness.
The Numbers Of Your Birth Date Reveal Your:
 
Life path Number
Day Number
Personal Year
Patterns Of Growth
Inner Number
Outer Number
Destiny Number
Transit Number
– The Path you have chosen to fulfill your mission in this life. Major Lesson.
– How You approach life.
– The stage you are at in your 9 year cycle. Provides insight into your present and future cycles.
– Patterns of your daily/monthly/yearly cycles of growth.
– Inner feelings, Your hearts desire.
– Your Personality, Outer Persona.
– Life Mission Key to success.
– Energy of any chosen year
In Vedic numerology there are 9 planets and 9 numbers, each number assigned to each planet.
Sun=1; Moon=2; Jupiter=3; Rahu=4; Mercury=5; Venus=6; Ketu=7; Saturn=8; Mars=9.
Number 1 belongs to Sun. It is no surprise that because Sun stands for power, 1 does, too. Look within and you will find that all your longings, passions and cravings are number 1 in this world, whether your goal is to be the president or the preacher.
Number 2 belongs to Moon. Our minds are controlled by the Moon and it's dual nature no wonder Moon changes every second.
Number 3 belongs to Jupiter and again it is no surprise that the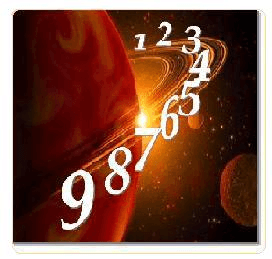 basis of all religions is dependent on the number 3. Christianity has the trinity, the union of the Father, Son and Holy Ghost into one Godhead. Hinduism has Bramha, Vishnu and Mahesh the Creator, Protector and Destroyer, respectively. Even the symbol for Aum is an offshoot of the number 3.
Number 4 belongs to Rahu. Rahu is a killer and represents cruelty.
Number 5 belongs to Mercury, the planet of intellect.
Number 6 belongs to Venus and stands for love and beauty.
Number 7 belongs to Ketu. The nature of Ketu is to be mysterious.
Number 8 belongs to Saturn, a teacher and the king of darkness & death.
Number 9 belongs to Mars, the controller of fire, blood, bloodshed and wars.