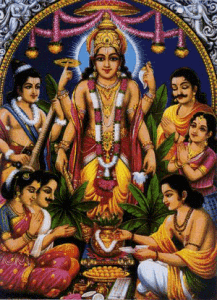 The Satyanarayana Pooja is performed to Lord Satyanarayana who is Lord Vishnu the sustainer of the universe as per Vedic tradition. The pooja is said to bestow tremendous prosperity on the person or family who performs the pooja.
Satyanarayana Pooja is usually done on special occasions as an offering of gratitude to the Lord. These occasions include marriage, graduation, and the purchase of a new home to name a few. The Satyanarayana Pooja is also done on the Poornima day of every month (full moon day).
The puja starts witth a prayer to Lord Ganesha, the remover of all obstacles. Another part of the prayer involves prayers to the Navagrahas, which are the 9 important celestial beings, in the universe. They consist of Surya (the Sun), Chandra (the moon), Angaaraka/Chevaai (Mars), Budha (Mercury), Guru aka Bruhaspati (Jupiter), Shukra (Venus), Sani (Saturn), Rahu (the head of Demon snake), and Ketu (the tail of Demon snake). The rest of the prayer is worship to Lord Satyanarayana, an extremely benevolent form of Lord Vishnu. Again, names of Lord Satyanarayana are chanted along with offering of a variety of prasads (food offerings) and flowers.
---
Customized Homam
The Homam to be performed depends on the type of problems & the individual's Birth Chart, usually a Pundit is consulted for advice on the type of homams that are to be conducted. If you have any doubts please ask to our Pundits. A detailed analysis of your Horoscope chart, by our Pundits would suggest you the most suitable remedies or if to conduct special poojas for specific problems at specific temples, that would help you over come your problems and to obtain evident good results with the Power of Cosmic Energy.
How Can I Get This Homam Performed?
By analyzing your horoscope, our experienced Pundits can identify the reason for the problems and the ways to nullify the problems. Based on your Birth Chart and on the instructions given by our Pundit, selective Homams are performed by Our Experienced Priests. Our Priests has vast experience in the field of performing Homams & Poojas. They have sound knowledge on the various aspects of performing homams. The main aim of performing the Homams is to enrich positive energy of the ruling planets and to nullify the negative elements shown in the birth chart. It is also a form of remedial measure which has been followed from the ancient times. Homams and poojas performed for a particular deity by invoking Agni – the God of fire. It is said that when Lord Brahma (the creator among the Trinity) created man, he also created "Homam" for man's livelihood and his attainment of spiritual desires.
---
---
---