Occasion:
"Marriage is a commitment, a decision to do, all through life, that which will express your Love for one's spouse". Hindu society follows a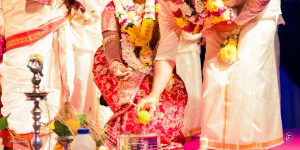 tradition   that is Marriage ceremony or Vivah-Sanskar which has not lost its value and faith till generations. Marriage holds its own prominent and distinguished place in everyone's life. It is said that a happy marriage is the union of two good forgivers! It is generally a transitional state from Brahmacharayashram to Grihasthashramam. Marriage occasions are always formed when a family realizes that a boy/girl is finally capable and matured enough to start a new family. The parents seek alliances for their children and compare the horoscopes and finalize the pair.
Sri Gayathri Ashram INC Services – WHAT WE DO !
At Gayathri Ashram all Homams and Poojas are done through most learned priests from very highly "Veda Pada Salai" (Veda School to Teach Vedas and Mantras). The Priests are very highly knowledgeable to cast the right mantras with right pronunciation of the mantra formulas. These priests are masters and have performed the Homams and Poojas for generations. Hindu priests are very special persons. They have to not only care for their body by being a vegetarian, bathing rituals and other purification rites, but they must take good care of their mind and emotions, too. Anger is a no for a priest, so are worry and worldly concerns.
We will send you our professional Purohit / Pundit trained in Hindu Vedic Paatasala to conduct the Homam/pooja at Devotees given location (home, office, temple etc.) and time (Sri Gayathri Ashram Pundit Ji will fix the date & time according to the Devotees Nakshatra (Star) on an auspicious date).
Timing:
Marriage is said to occur when the placement of planets in the bride and the groom's horoscopes are favourable. The 'Guru Palan' is a phase which signifies the auspicious and apt time for seeking and finalizing the marriage for both the boy and the girl.
Purpose and Benefits:
The willingness to take responsibility for somebody other than you is at the root of every successful marriage. Marriage is an integral part of our society because it is basically regarded as a license for two individuals who have accepted each other in their thick and thin to live together! A couple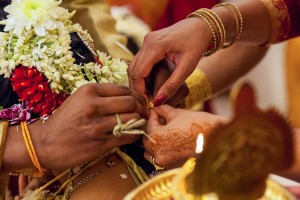 must understand the importance of marriage and try to maintain it any cost. To be married is one of the defining moments of a person and this becomes an inevitable joy in the journey of life. Being married with someone enables us to start a legitimate family on our own and branch out for a new phase of life. Seeing beyond all the inequalities, agreeing to the disagreements, habit of forgiving are the basic principles one should learn before stepping into marriage world. A married life is the sense of unity, intimacy and love between husband and wife both physically, mentally and spiritually. That is why we say wife to be our better half or Ardhangani in Hindu tradition. A marriage process helps us to find our soul mate that we can call our own and make assure to follow till our last breath! It is the phase when 'My' word turns to 'Our' and there we learn the true meaning of sharing and living for someone else!
This is the sacred matrimonial ceremony where two people establish relationship in a formal manner. Marriage is package of kindness, mutual respect, forgiveness, sacrifices, sharing your best and your worst, friendship and love.
Are you ready to make a promise:
Of your full hearts devotion.
A smile to chase away the sorrow.
A life filled with colors of a rainbow.
To be the moon and shower lights when everything is dark.
A shoulder of comfort.
A hug to make the other feel protected like a delicate flower.
A pinch of forgiveness.
A dash of hope and faith.
A twinkle of mischievousness.
Lots of memories to cherish and treasure when you grow old with each other.
Are you ready to sing the song of life together which can fill any bestseller?
Are you ready to begin your day as two people with lots of love and End your day as "Husband and Wife"?
This is the day when your beautiful story begins. Let us make this special occasion of yours extra-ordinary with a bundle of blessing from the Almighty… Let us tie the knot between the shores of your souls so that you can embark on your journey together as ONE.
Get Free Horoscope (Personalized Birth Charts) E-Book. Get It Free!…