Since ancient times, gems and precious stones have been associated with the zodiac signs and continue to be credited with possessing power to bring luck and change the course of an individual's life. Wearing a blue sapphire, for instance, is believed to bring you a fortune, love, and release from prison. Birthstones are various gems associated with the particular calendar months of the year, and are considered lucky to people who are born in those months.
In the professional sphere, a gem or a precious stone can help most of you to achieve breakthroughs, which have headed your list of aspirations for a long time. You won't have to wait in the wings if you're wearing a Gem. Instead, your skills and expertise can be in demand and you'll be able to build up a strong reputation as a consistent worker who can deliver quality even when circumstances are stacked against a positive outcome. Seniors and people in authority can be inclined to accept many of your ideas and proposals , while colleagues and juniors can be more cooperative if you wear a Gem.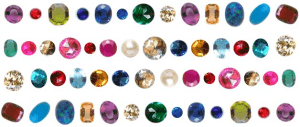 In business, a Gem can enable you to usher in and sustain a phase of expansion. Your capacity to visualize plans, which are responsive to market trends, can be enhanced manifold and many of you can quickly find that you're amongst the front-runners in your field. A Gem can also induce you to adopt the most sophisticated marketing techniques. Romantic involvement can become more intense and important decisions kept in abeyance can be easier to deal with in a long term context. In many cases, a Gem could hasten marriage or a meeting with a special someone, in addition to saving your marriage if it's heading for the rocks. If you suffer off and on from respiratory problems or are concerned about putting on weight, a Gem would be just what you need.
Overall, your run of success can gain power and pick up speed if you wear a Gem. And in the bargain, many of the weak areas in your life can be transformed into strengths if you wear a Gem. The gem stone / birth stone should be set in the right metal and with the right weight. It should be worn on the correct finger of the working hand. Each gem, with its constant source of specific rays, gives rise to constructive vibrations that have therapeutic powers. Hence wearing your appropriate birth stone will always give you luck and prosperity.