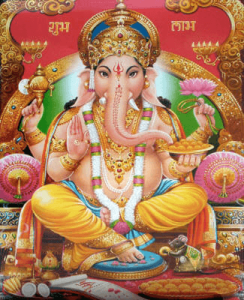 In Hindu culture Ganapathy or Lord Ganesha is always worshipped before starting any Pooja or Homam. Lord Ganapathy eradicates all difficulties faced by an individual.
According to the legend performing Ganapathy Homam at least once in a year will give prosperity, health ,wealth and peace of mind to the individual who is performing it. Ganapathy Homam should be performed on all possible auspicious occasions be it starting a new project or even your birthday.
Before starting any new venture or anything fresh, Ganesh pooja is must. If one is suffering from losses, when starting a new business or investments or when one is getting married, or to remove obstacles or for celebration of your or your child's birthday, Maha Ganpathy homa is recommended. Done to remove obstacles, for gravhapravesham
The large head of an elephant symbolizes wisdom, understanding, and a discriminating intellect that one must possess to attain perfection in life. The wide mouth represents the natural human desire to enjoy life in the world.
The large ears signify that a perfect person is the one who possesses a great capacity to listen to others and assimilate ideas. The trunk relates to the power of human mind, which must be strong enough to face the ups and downs of the external world and yet delicate enough to explore the subtle realms of the inner world. The two tusks denote the two aspects of the human personality, wisdom and emotion. The right tusk represents wisdom and  left tusk represents emotion. The broken left tusk conveys the idea that one must conquer emotions with wisdom to attain perfection.
Performing Ganapathy Homam once in  every year gives prosperity, health and wealth. If any one is running Ketu dasa or bhukti or there is some dosha of Ketu in the horoscope, he shall perform Ganapathy Homam and get-relief. Ganapathy Homam should be performed in the early morning and Poornahuthi to be offered during sunrise, unless any other time is specifically mentioned to suit the particular purpose. Normally, only Vedic ways of Homams are performed.
* It is Performed during any auspicious beginning like commencing a business etc.
* It Improves family bondage.
* It is performed to overcome diseases.
* It is performed for achieving planned objectives without hindrance.
* It is performed for success in works/projects without any problems.
* It is performed for education, marriage, health and wealth.
* It is performed to attain prosperity in various aspects of life.
* It is also done at the beginning of other Homas
---
Customized Homam
The Homam to be performed depends on the type of problems & the individual's Birth Chart, usually a Pundit is consulted for advice on the type of homams that are to be conducted. If you have any doubts please ask to our Pundits. A detailed analysis of your Horoscope chart, by our Pundits would suggest you the most suitable remedies or if to conduct special poojas for specific problems at specific temples, that would help you over come your problems and to obtain evident good results with the Power of Cosmic Energy.
---
How Can I Get This Homam Performed?
 By analyzing your horoscope, our experienced Pundits can identify the reason for the problems and the ways to nullify the problems. Based on your Birth Chart and on the instructions given by our Pundit, selective Homams are performed by Our Experienced Priests. Our Priests has vast experience in the field of performing Homams & Poojas. They have sound knowledge on the various aspects of performing homams. The main aim of performing the Homams is to enrich positive energy of the ruling planets and to nullify the negative elements shown in the birth chart. It is also a form of remedial measure which has been followed from the ancient times. Homams and poojas performed for a particular deity by invoking Agni – the God of fire. It is said that when Lord Brahma (the creator among the Trinity) created man, he also created "Homam" for man's livelihood and his attainment of spiritual desires.